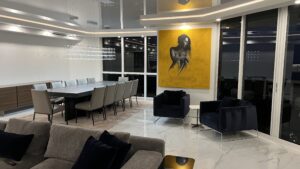 View Video on Youtube.
Commissioning your own work of art
For over twenty years I've been commissioned by clients to produce portraits, usually of their
family members or girlfriends. During lockdown however, I took on some slightly different projects
–
bespoke
Fine Art commissions, where I work with you to produce an image of something you
find attractive or memorable and which is unique to you.A present for yourself or for a loved one.
We discuss and agree the subject as well as the size, medium and colour scheme of the final
artwork, and then decide what image to use as the basis for the commissioned piece. It can be
one you supply or you choose something from my huge stock of unused photoshoot images.
Once we have agreed the cost and a payment schedule – payments spread over 3-6 months for
example – I need two to three months to do the work. During that time I give you regular photo
updates of course.
Contact me for more info.
---
PORTRAITS – Face and Body
---
Kids' Portraits
---
My Irish Icons' Series (2012)
---
Subscribe to Patrick's newsletter to receive exclusive previews and discounts.